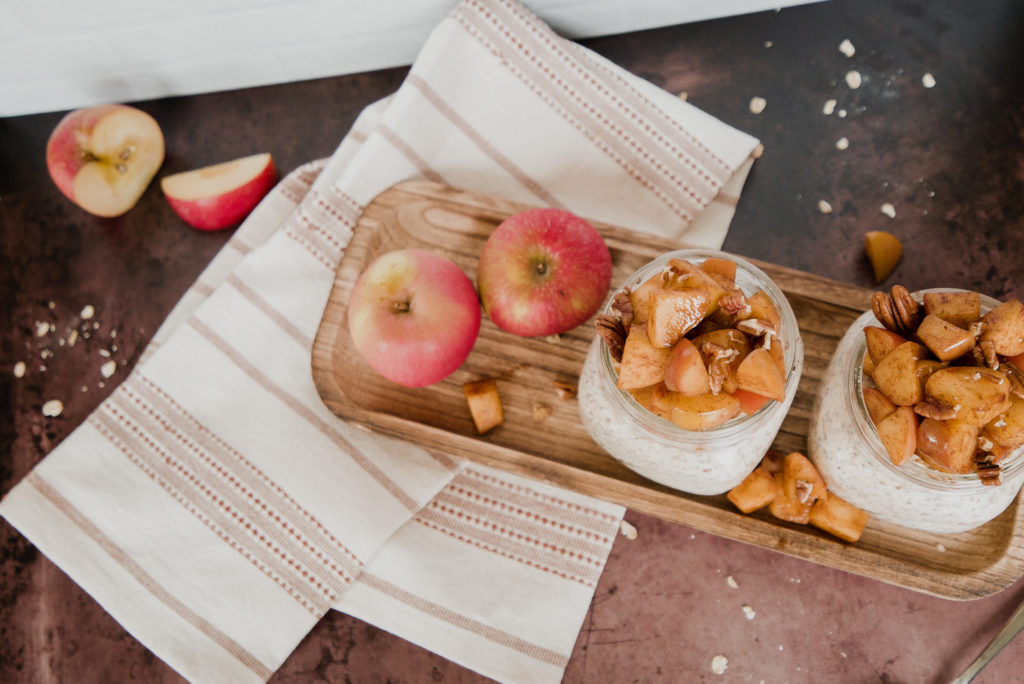 Apple Cinnamon Overnight Oats
Ingredients
Yields: 4 servings
The Base:
2 cups Old-Fashioned Rolled Oats
2 cups Milk of choice (I use Vanilla Unsweetened Almond Milk)
1 cup Plain Greek Yogurt (or your favorite dairy-free alternative)
2 tsp Vanilla Extract
4 tsp Honey (or 100% Maple or Agave syrup)
2 tsp Cinnamon
4 tbsp Chia Seeds
4 tbsp Flax Seed, ground
Stovetop Apple Cinnamon Topping:
4 Apples, diced
2 tsp Cinnamon
1 tsp Honey (or 100% Maple or Agave syrup)
1-2 tbsp water
Crushed Pecans
Instructions
For the Base - Locate 4 mason jars or Tupperware containers with lids. In each jar, add ½ cup oats, ½ cup milk, ¼ cup yogurt, 1/4 tsp vanilla, 1 tsp honey, 1/2 tsp cinnamon, 1 tbsp chia seeds, 1 tbsp ground flax seeds and stir. You may want to add more milk depending on personal preference.
Seal each jar/container and refrigerate overnight (or for 6-8 hours).
For the Stovetop Topping - Dice 4 apples. Add apples and water to a medium saucepan and cover. Stir occasionally, over medium heat for 3-5 minutes or until apples are tender.
Add honey and cinnamon and stir for an additional 1-2 minutes.
Remove from heat and cool completely.
To Serve - Top oats with apple cinnamon topping and sprinkle with crushed pecans.
Print Now