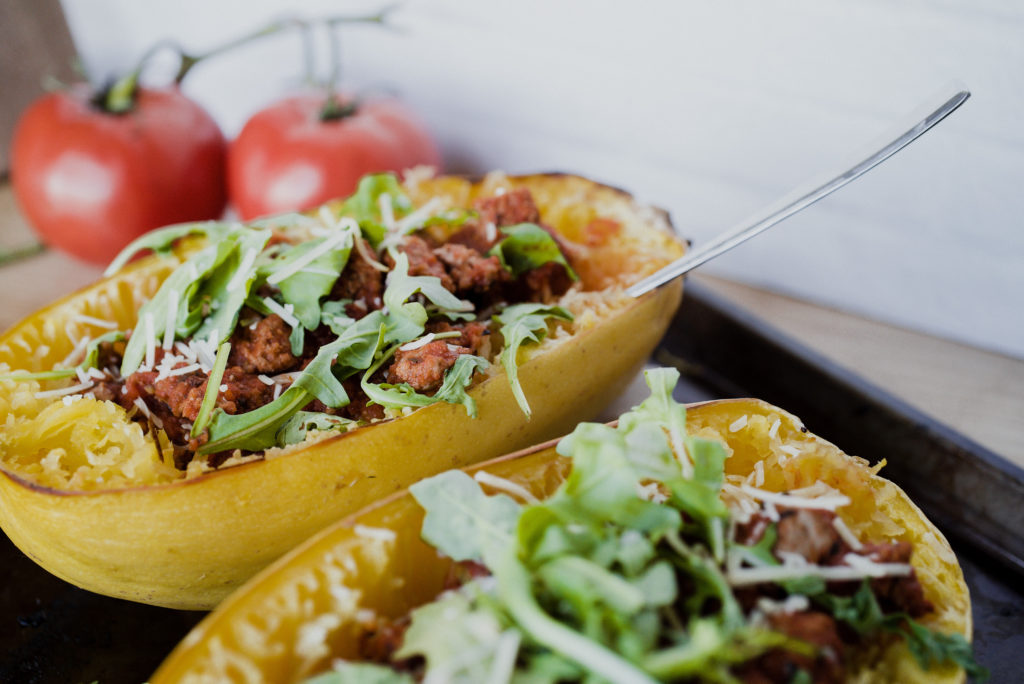 Simple Spaghetti Squash
Ingredients
Yields: 4-6 servings
1 spaghetti squash
1 Tbsp extra-virgin olive oil
1 clove garlic, minced
1 lb 93% lean ground turkey
1 24 oz jar pasta sauce of choice (I used Classico's Tomato & Basil)
Black pepper, to taste
2 tsp dried parsley
1 cup arugula
2 Tbsp parmesan cheese, shredded
Instructions
Preheat the oven to 400 °F.
Cut the spaghetti squash lengthwise into halves and remove the seeds with a spoon. Lightly brush or drizzle olive oil onto the inside of each half. Place the 2 halves face down on a baking sheet and bake for 35 minutes.
Meanwhile, heat the remainder of the olive oil in a large skillet over medium-high heat. Add the minced garlic and let simmer for 2-3 minutes. Add the ground turkey and black pepper. Cook turkey throughout, until no longer pink.
Reduce the heat to medium. Pour the pasta sauce over the ground turkey and let simmer. Season with dried parsley.
Once cooked thoroughly, remove spaghetti squash from the oven and use a fork to fluff the squash.
Top with sauce, fresh arugula, and parmesan cheese.
Print Now