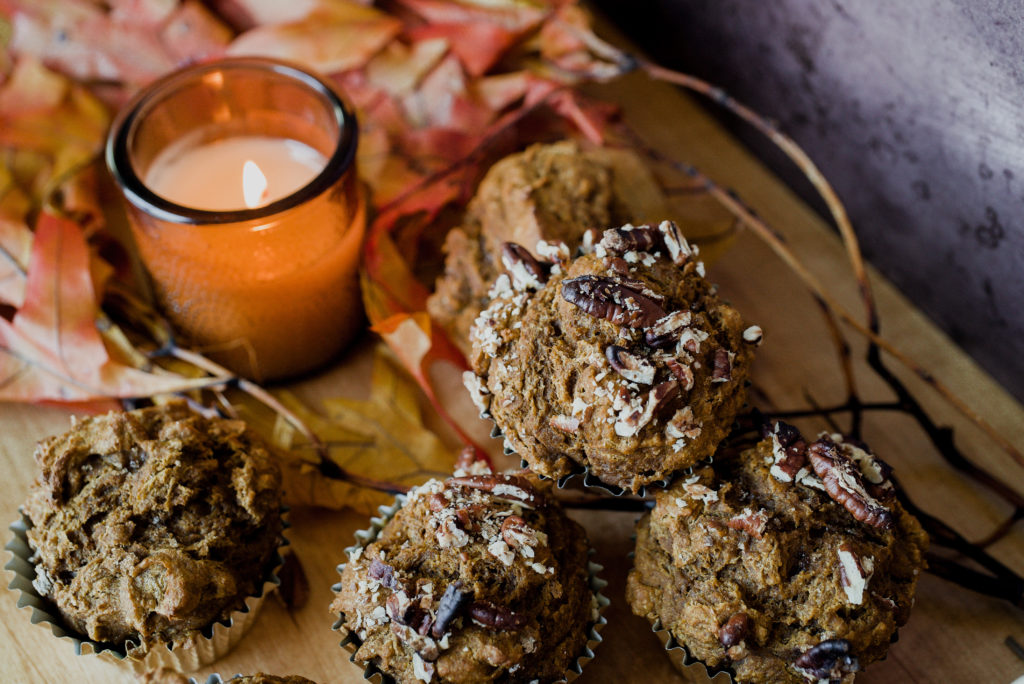 Whole-Wheat Pumpkin Muffins
Ingredients
Yields: 12 muffins
Wet Ingredients
2 bananas, ripe
1 15 oz. can pumpkin
2 egg
1/3 cup 100% maple syrup
1 tsp vanilla extract
1/4 cup coconut oil, unrefined
1/2 cup milk of choice (I used vanilla unsweetened almond milk)
Dry Ingredients
2 cups whole-wheat flour
2 tsp pumpkin pie spice
2 tsp cinnamon
1 tsp baking soda
1 tsp baking powder
1/8 tsp salt
Optional
Crushed pecans for topping
Instructions
Preheat the oven to 425°F. Line a muffin tin with muffin liners or spray with cooking spray and set aside.
In one bowl, combine the wet ingredients. Mash the bananas, add the melted coconut oil, maple syrup, almond milk, eggs, pumpkin, and vanilla extract. Mix well.
In another bowl, combine the dry ingredients. Whisk together the whole-wheat flour, cinnamon, pumpkin pie spice, salt, baking powder, and baking soda.
Add the dry ingredients to the wet ingredients and stir. Do not over mix, lumps in the batter are perfectly fine.
Divide batter between the 12 muffin tins. Top with crushed pecans if desired.
Bake muffins at 425°F for 5 minutes, then reduce heat to 350°F and bake for an additional 20 minutes or until a toothpick inserted into the center of a muffin comes out clean.
Remove from the oven and allow to cool completely. Enjoy!
Print Now